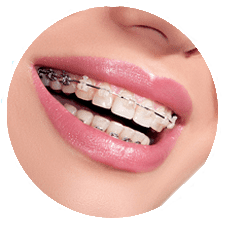 Orthodontic treatment is a way to the straightening of your moving teeth, to improve the appearance of the teeth and how they work. It can also help to look after the long-term health of your teeth, gums and jaw joints, by spreading the biting pressure over all your teeth.
Braces are the custom-made device that uses applied pressure to straighten your teeth and correct your bite.
What dental braces can correct?
What is good age for Braces?
Patients with orthodontic problems can benefit from treatment at nearly any age. An ideal time for placement of braces is between 10 and 14 years of age, while the head and mouth are still growing and teeth are more conducive to straightening.
How long is the treatment for Braces?
The length of your treatment is determined by many factors, including the severity of your alignment issue, your age, the health of your teeth, and the specific orthodontic procedure you need to undergo. Nevertheless, typical treatment usually takes between 12 and 36 months. Adults are especially concerned about the amount of time they need to wear braces. On average, it takes about 24 months to complete an orthodontic treatment. Some patients require less than 12 months, but there are also patients requiring up to 3 years of treatment before their teeth reach the desired position.
Which type of braces is the best?
NEED DENTAL CHECKUP? MAKE AN APPOINTMENT NOW!
Call: 7023271994, Open Hours: Mon-Sat 10:00 AM – 08:00 PM, Sunday By Appointment Only
How much do Braces Cost for Adults?
Complete Braces package starts at INR 19,900
Free consultation with the specialist orthodontist.
Teeth Cleaning before starting the procedure
Non-surgical extractions if any needed.
Diagnostic Casts
Braces (Metal, ceramic, colored, lingual or clear path depending on the package chosen)
Removable retainer after completion of the treatment ( only if the orthodontist recommends )
No charges on follow up visits
Are Braces Painful?
Our answer is that braces do not hurt at all when they are applied to the teeth, so there is no reason to be anxious about the placement appointment. There will be mild soreness or discomfort after the orthodontic wire is engaged into the newly placed brackets, which may last for a few days to a week.
Who will treat me?
At FACE KRAFT Dental Clinic, treatment of irregular teeth is done by specialist orthodontists. Those who are looking for an orthodontist in Jaipur, FACE KRAFT CLINIC is the place to drop by. Our specialists are polite and great with kids. We are one of the best dental clinics in Jaipur.
Why should I choose FACE KRAFT Dental Clinic for my orthodontic treatment?
FACE KRAFT is a dental clinic in Malviya Nagar, Jaipur. Malviya Nagar is easily approachable and commutable from all corners of the city. Treatment is done only by specialists who have been trained for years to correct irregular teeth. Our charges are reasonable and pocket-friendly.